Who are Street Pastors?
The Street Pastors initiative is an inter-denominational response to community problems, engaging with people on the streets, to care, listen and help.
It was pioneered in London in January 2003 by Rev Les Isaac, Director of the Ascension Trust, and has seen some remarkable results, including a decrease in levels of crime in areas where teams have been working.
The initial emphasis of Street Pastors in areas such as Lewisham and Hackney was on confronting gang culture and the use of knives and guns. As the initiative spread to other areas it responded to other local issues such as people endangering themselves through the excessive intake of alcohol.
By 2008 there were Street Pastor groups in 70 locations being established. Currently there are over 250 groups in operation with over 9000 trained Street Pastors.
Why the New Forest?
The New Forest Police Constabulary have been instrumental in seeking the introduction of the Street Pastor scheme in the region.
The initial support of Chief Inspector Gary Cooper, the commanding officer at the time, was strategic in encouraging co-operation with local government and churches in this initiative. The Waterside churches were among the first to respond and after consulting with the police and other agencies were the first to sign their Licence Agreement with the Acension Trust.
The next stage is the implementation of Street Pastors in the Lymington, Pennington and New Milton areas, know as New Forest South.
How can you become involved?
We would love to hear from you if you are interested in volunteering. Here are some of the ways you can help:
By becoming a STREET PASTOR
Requirements:
Must be over 18 (no upper age limit)
Can either be a church member, leader, minister or have attended church regularly for at least a year.
Must be able to commit to a training programme.
By becoming a PRAYER PASTOR
Prayer Pastors underpin the work of Street Pastors. They meet together to intercede on behalf of the teams and the people that are met on the streets.
They are
A church member, leader, minister or have attended church regularly for at least a year.
Able to commit to meeting together a minimum of one night each month.
By becoming a PRAYER SUPPORTER
Prayer supporters are people who are willing are willing to pray about the work of Street Pastors, either at home, in church, in small groups of individually. They are given regular updates by the prayer coordinator.
By being a FINANCIAL PARTNER
We urgently need Christians and organisations to assist financially for the work to continue and strengthen in our area.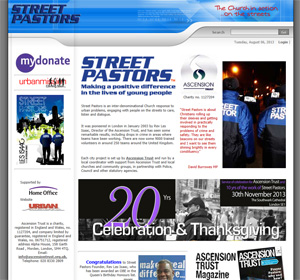 Contact our admin office on 023 8024 3306 for more information.